Along with a few friends, I recently flew around the world and we made a 2 hour DVD/documentary aimed at the General Aviation industry and the general audience at large. Cap'n Jim Hazelton and his [engineer] nephew, Geoff, Co-pilot Don Mcbean, Cameraman Keith Bushnell and myself took a Beechcraft King Air 200 the long way around.
Across The Pacific Ocean via Tahiti and Easter Island, South and North America, Europe and back via the Middle East and the Indian Ocean: Some of the way we followed in the flight paths of pioneering aviators and were lucky enough to see the space shuttle Discovery's return to flight'. The EAA Air spectacular at Oshkosh was also on our way and so was the Zeppelin factory, back to building airships. We then filmed some spectacular pictures (see above) of the Swiss Alps on our way across to the Mediteranian to the Greek Island of Crete. The Pyramids of Egypt, Sri Lanka and Ayres Rock Australia were also part of the highlights.
A 2 hour DVD is available for only $29.95 + postage and handling, within Australia $5.00 Overseas $10.00.


Here at Moore Films we have just finished cutting and producing our latest adventure ready for your entertainment. If you would like to join us or organise your own air bound adventure then we are the ones to call. On our previous flights we took a group on a world tour and that can be viewed on DVD also.
Primarily, we've made a few video productions that many believe were very useful contributions to the Auto Recycling Industry. Whether you know them as Wreckers, Breakers or Junk Yards, they're actually very important: even more important than many in the industry are aware!
To Contact Peter Moore .mailto:peter@moorefilms.com.au
DVD
AVAILABLE NOW! CLICK TO ORDER.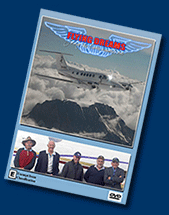 FLYING DREAMS ONLY $15.00 + Postage
Joining the Earthrounders
5 men • 1 plane • 30 refuelling stops • 1 globe
PREVIEW TRAILER